November 02, 2016
Cedric Chauveau, It's Only a Paper Moon
French pianist Cédric Chauveau is a man of good taste. His playing sums up his love for classic masters like Kenny Barron, Tommy Flanagan, Junior Mance or Oscar Peterson. Above all, he chooses each note carefully, never overplaying his hand, focusing on making the music breathe. He has a thorough understanding of gospel and blues ("Gospel in My Tears") and keeps things on the melodic side. The arrangements are also extremely well-crafted, both obvious and subtle.

With the ever accurate and swinging Mourad Benhammou, the trio follows the sure-footed path of rhythmic consistency. Nicola Sabato brings his usual strong sonic presence and bluesy sound. He shines with Ray Brownish funkiness on "My Fingers' Blues" or the intro to "Nice Work".
Having played with killer tenor Craig Handy and vocalist Mandy Gaines, Cédric Chauveau knows the intricacies of the jazz language and performs with a deep love and enthusiasm for the music. Which may be the strongest feature of this elegant album—the eagerness to embrace the music and bask in the good feeling of its vibrations.
Le pianiste Cédric Chauveau est un homme de goût. Son jeu résume bien son amour des grands maîtres 
classiques comme Kenny Barron, Tommy Flanagan, Junior Mance ou Oscar Peterson. Il choisit chaque note avec soin, sans jamais trop en faire et en laissant la musique respirer. Il possède une vraie connaissance du gospel et du blues (« Gospel in My Tears ») et choisit toujours de rester mélodique. Quant aux arrangements, ils sont toujours fins, à la fois évidents et subtils.
Avec le swing précis de Mourad Benhammou, le trio suit un parcours d'une grande cohésion rythmique d'autant que Nicola Sabato apporte sa présence vigoureuse et sa sonorité bluesy. Il brille par son côté funky en faisant ouvertement allégeance à Ray Brown  sur « My Fingers' Blues » ou l'intro de « Nice Work ».
Ayant joué avec l'incroyable ténor Craig Handy et la vocaliste Mandy Gaines, Cédric Chauveau connaît les méandres du jazz et joue avec un enthousiasme et un amour palpables pour cette musique. Et c'est peut-être là l'une des grandes qualités de cet album élégant : la volonté généreuse de se plonger dans le jazz et d'en absorber, autant que d'en diffuser, les ondes bénéfiques.
Jean Szlamowicz for Spirit of Jazz
Tunes: Oyonnax, Bossa for Kenny, It's Only a Paper Moon, Syracuse, Gospel in my Tears, My Fingers' Blues, Yesterdays, Claudia, Nice Work If You Can Get It, Twenty Years Ago, Darn That Dream
Cédric Chauveau : piano | Nicola Sabato : double bass | Mourad Benhammou : drums
Recorded in La Rochelle, 18-20th April 2016 by Carl Schlosser
Black & Blue Records 817.2
 Midi Libre – Octobre 2019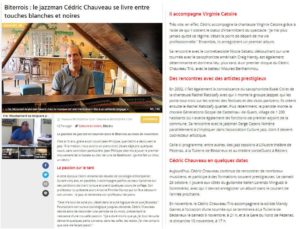 ---
 Jazz Hot – Juillet 2019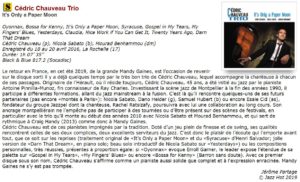 ---
Citizen Jazz – Novembre 2017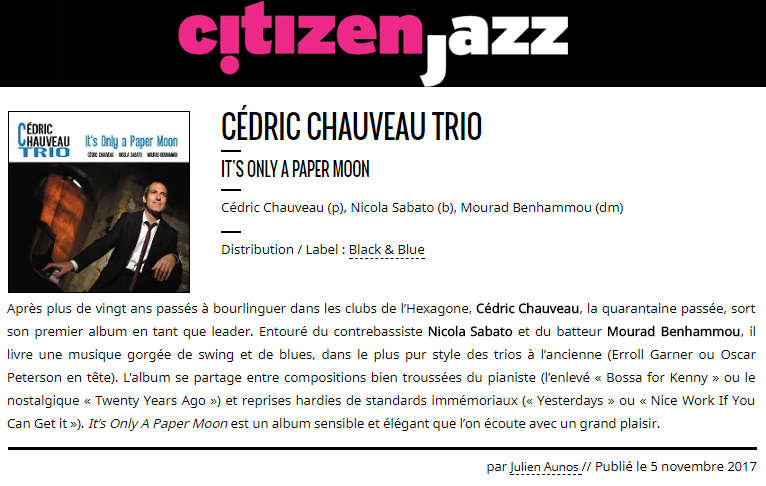 ---
Revue du Hot Club de France – Février 2017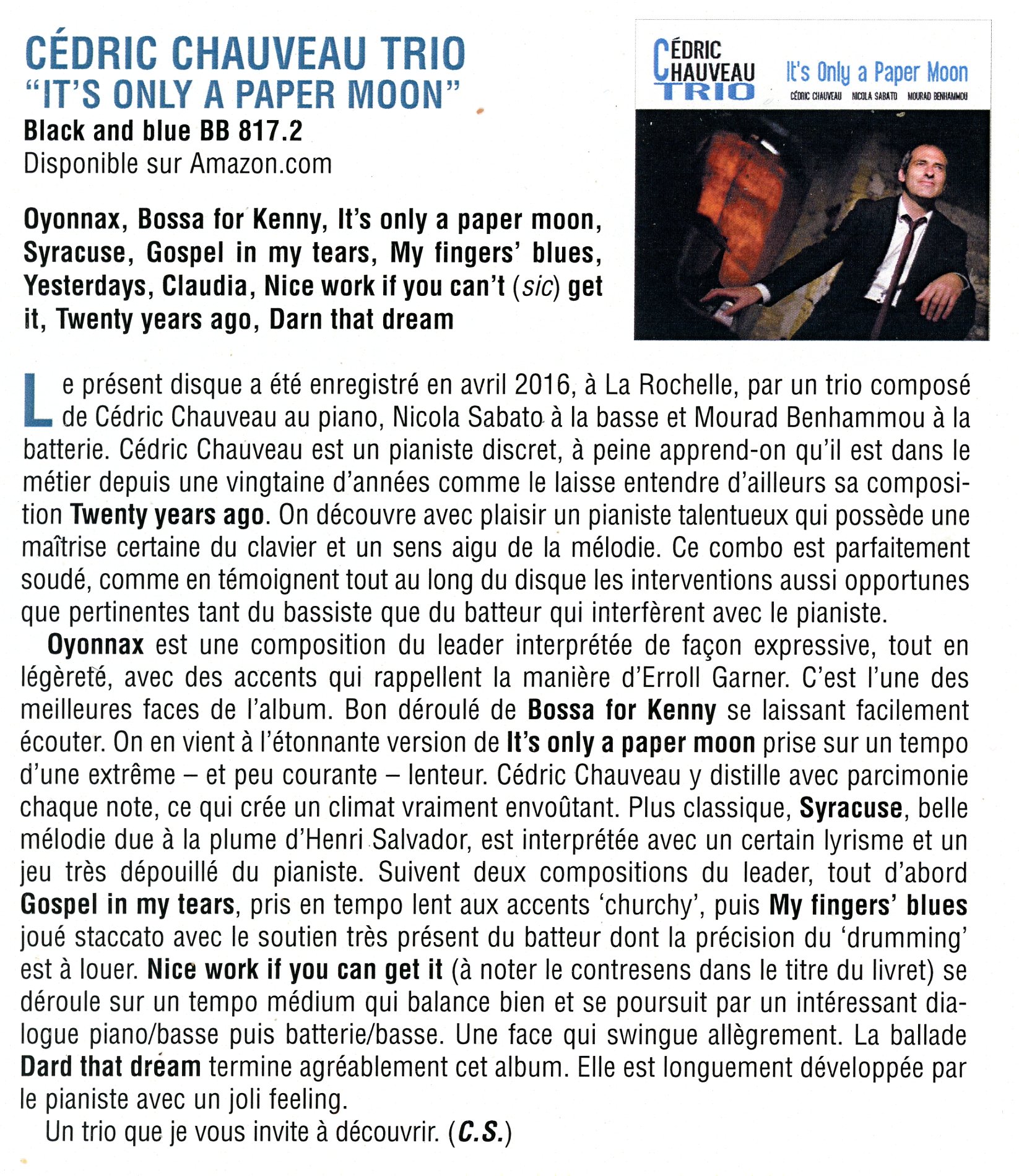 ---
[ 

REVELATION !

]
Jazz Magazine Décembre 2016 – Janvier 2017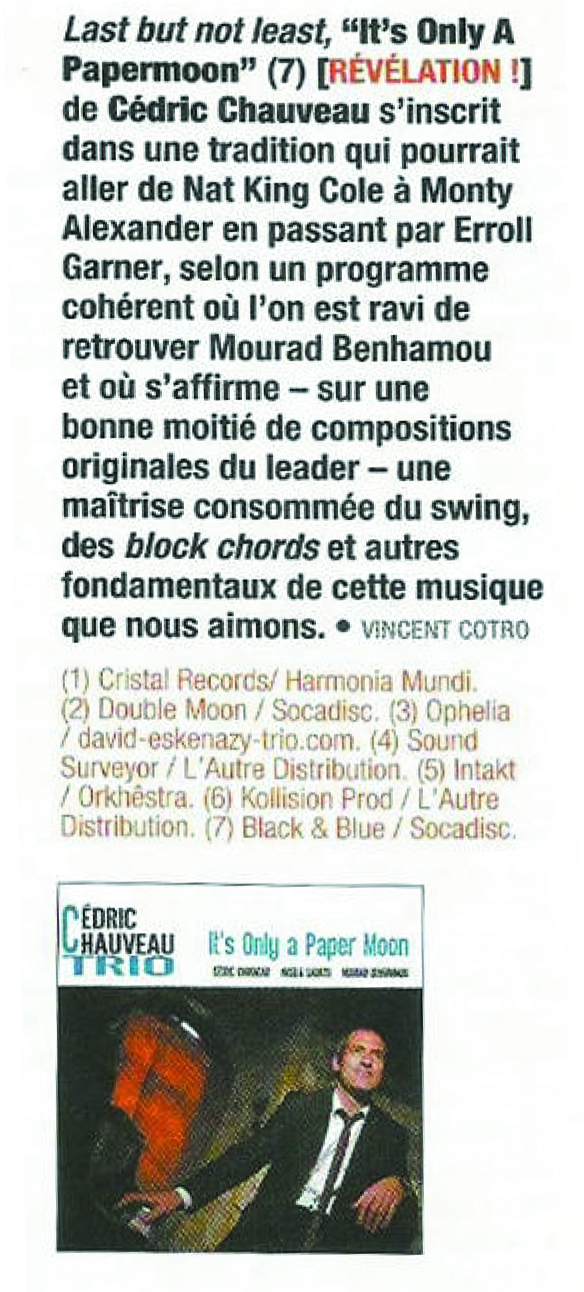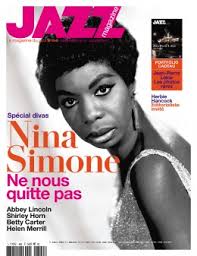 ---